Account Mapping and Why Its Crucial for B2B Marketers
08/09/2020
08/09/2020
Account mapping has become increasingly relevant over recent years, primarily due to it being a key component of Account-Based Marketing (ABM), an essential strategy for B2B marketers to remain competitive in today's market. 
What is Account-based Marketing?
ABM is an approach to marketing which involves aligning resources towards specific sets of target accounts. In other words, it is a targeted approach to marketing which focuses on a company instead of on an individual buyer.
ABM is a topic that has been rising in prominence significantly due to its effectiveness. Demandbase found that 60% of companies that implemented account-based marketing saw a revenue increase of a minimum of 10% within the first year, with 20% of companies experiencing an increase of 30% or more. Conjointly, ABM Leadership Alliance determined that B2B marketers using ABM saw an improvement in average annual contract value of 171%. Simultaneously, SiriusDecisions research suggests that 91% of companies using ABM increased their deal size and that for 25% of respondents this increase was over 50%. For more information on the benefits of Account-Based Marketing over traditional marketing, feel free to check out our article on the subject.
To successfully execute ABM, account mapping is necessary to define the relationships and key decision makers involved in a sale to be able to target the company as a whole.
What is Account Mapping?
Account mapping is a technique used to understand key accounts and increasing your reach among new and existing customers. It involves cataloguing and organising the people that work at a targeted account. This is key to formulating the strategy for account targeting within an ABM approach, to understand which decision makers should be targeted, which markets are most relevant, the best way to reach these personas, which approach to take and what problems you can solve for them. Account Profiling is also a key component of account mapping and it involves the gathering of information about targeted accounts as a whole. It's a combination of obtaining key contacts, reporting relationships, priorities, responsibilities, buying decision processes, sales cycles, key goals, trigger events, inventory, assets, active projects, sales status, competitive information, challenges and opportunities. 
How to Map and Profile Key Accounts?
Finding information on target accounts can be accomplished through a variety of methods and can often take a significant amount of time. Generally, it involves a mixture of online research, emails, phone calls and meetings (either in-person or through video conferencing tools). It's crucial that all data obtained on an account through marketing and sales activities are collected and stored in a unified CRM system and associated with a singular account profile. This is important so that your marketing and sales team can easily use this data in their strategy and approaches. Cleaning and updating this information is also essential, and if you're unsure about where to start, here's a piece helping with just that. 
How to Create a Visual Account Map
Account mapping can also be used to visually represent the data points and the relationship dynamics at a prospect's company. The relationships and primary stakeholders identified in the sales process can be portrayed visually through an organisational chart, below is a basic template we've created to illustrate this approach: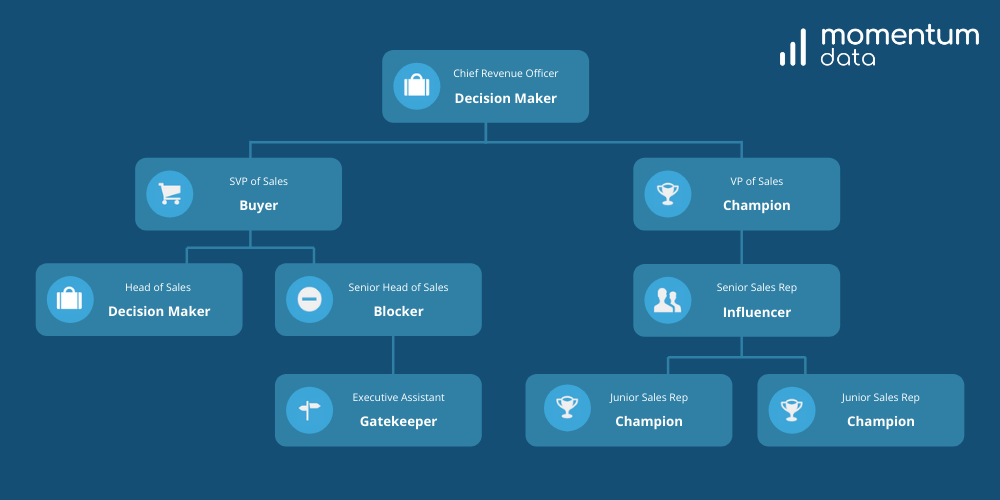 This template represents a typical sales department account map, however, the stakeholders involved can be typically applied to any visual account map and are described below: 
Decision maker: the person that will decide whether the project can go ahead or not.
Buyer: the individual that will make the final purchase.
Champion: someone that believes in your product either for personal or company gain and therefore advocates for it across the company, also helping you to sell it internally.
Influencer: a stakeholder with the power to influence a decision-maker on the final purchase decision.
Gatekeeper: a designated person who is responsible for keeping a prospect from being bothered by irrelevant callers.
Blocker: someone that will stall the deal either by being unresponsive or negatively influencing others about your solution.
How can Social Listening help with Account Mapping?
Social Listening is the tracking and analysis of a target audience's behaviour on social media to identify signals that can be used to define marketing or sales strategies. For example, a prospect commenting on a post about a problem which your solution can solve is a positive signal that this lead might be interested in hearing about your offering. For more examples on buying signals here's an article we wrote presenting some of the most common examples.
The main use case of Social Listening within Account Mapping is to understand which decision makers are most worthwhile or relevant to reach out to. In addition, on platforms such as LinkedIn, you can observe news feed interactions between different members of your target accounts to help define the relationships between various stakeholders. 
Why is Account Mapping Important for B2B Marketing? 
Beyond the role of account mapping in ABM, there are further reasons for its relevance in B2B marketing. The two main use cases for account mapping are listed below: 
Marketing campaign timing: through account mapping, it's possible to gain insights on the budget cycles of your target accounts. As a consequence, this enables your marketing team to time its campaigns according to the time of the year where customers are most likely to have the budget for new solutions.
Marketing campaign clustering: identifying target personas, their characteristics (job role, function, seniority level) and buyer persona type are relevant for ABM, but more specifically they can be useful for formulating marketing campaigns. Account mapping can enable a B2B marketer to delineate clusters within their target audience and increase the relevance and success of associated marketing campaigns.
Categories
Receive our monthly Data Digest
For decision makers and data practitioners, our monthly roundup of the industry [contact-form-7 id="3049" title="Newsletter Signup"]
Share This Article