LIVE UPDATE: Coronavirus Conference / Trade Show Cancellations Tracker & Map
11/03/2020

11/03/2020
With the coronavirus (or COVID-19) outbreak rapidly spreading, extra precautions are being taken in countries all over the world. As of Tuesday morning (10/03/20), over 115,000 people have been infected, and the death toll has surpassed 4000. The virus has been detected in at least 100 countries and has spread to every EU country. Most notably, Italy has been placed in a country-wide lockdown, with people no longer being allowed to assemble in public; offices, bars, gyms, and events of all kinds are being closed. 
Alongside the human toll, economic effects have been significant. Monday (10/03/20) was Wall Street's worst since the financial crash of 2008, with the Dow Jones falling 2,000 points. Simultaneously, in London, the FTSE100 share index of leading companies experienced a three-year low with oil prices plummeting.
As country-wide measures are increasingly adopted all over the world, events are being cancelled on a global scale, augmenting the economic costs significantly. Nine major tech conferences, including the Mobile World Congress, SXSW, Google I/o and Facebook's F8 event have been cancelled, bringing the direct economic loss to over 1$ billion (according to the data intelligence company Predict HQ). Below you can find a tracker of all the major business and tech events that have been cancelled, postponed or moved to online-only format.
Coronavirus Conference / Trade Show / Tech Event Cancellations Tracker (Last update: 11/03/20)
February
Mobile World Congress: Barcelona, Spain (24-27) CANCELLED 
Semicon Korea 2020: Seoul, Korea (5-7) POSTPONED
March
Cisco Live: Melbourne, Australia (3-6) CANCELLED
DocuSign Momentum: San Francisco, USA (4) NOW ONLINE-ONLY 
Salesforce World Tour: Sydney, Australia  (4) NOW ONLINE-ONLY 
Facebook Global Marketing Summit: San Francisco, USA (9-13) CANCELLED 
SAP Concur Fusion: Orlando, USA (9-12) NOW ONLINE-ONLY 
Microsoft WSLConf: Redmond, USA (9-11) NOW ONLINE-ONLY 
Energy Storage Europe 2020: Dusseldorf, Germany (10-12) POSTPONED
Qualtrics X4 Summit: Salt Lake City, USA (10-13) POSTPONED 
IDC Directions: Boston, USA (24) NOW ONLINE-ONLY
CERAWeek 2020 Energy: Houston, USA (9-13) CANCELLED 
HIMSS Global Health Conference: Orlando, USA (9-13) NOW-ONLINE ONLY 
Cisco Devnet Create: Mountain View, USA (10-11) POSTPONED 
Women in Cybersecurity event: Denver, USA (12-14) CANCELLED 
South by Southwest: Austin, USA (13-22) CANCELLED
Inspired Home Show 2020: Chicago, USA (14-17) CANCELLED 
O'Reilly Strata Data & AI Conference: San Jose, USA (15-18) POSTPONED
Grainger Show 2020: Orlando, USA (15-18) CANCELLED
Microsoft MVP Global Summit: Bellevue & Redmond, USA (15-20) NOW ONLINE-ONLY 
SAP Ariba LIVE: Las Vegas, USA (16-18) CANCELLED 
F5 Agility 2020: Orlando, USA (16-19) NOW ONLINE-ONLY
Game Developers Conference: San Francisco, USA (16-20) POSTPONED
Domopalooza: Salt Lake City, USA (18-19) NOW ONLINE-ONLY
Nvidia GTC – GPE Technology Conference: San Jose, USA (22-26) NOW ONLINE-ONLY
Aruba Networks Atmosphere 2020 Las Vegas, USA (23-26) NOW ONLINE-ONLY
Oracle Modern Business Experience: Chicago USA (23-26) POSTPONED
Y-Combinator Demo Day: San Francisco, USA (23-24) NOW ONLINE-ONLY
EmTech Asia: Singapore (24-26) POSTPONED
Adobe Summit: Las Vegas, USA (29-2) NOW ONLINE-ONLY
SAS Global Forum: Washington, USA (29-1) NOW ONLINE-ONLY
Oktane Live (30-2) ONLINE-ONLY 
Paris Blockchain Week Summit: Paris, France (31-1) POSTPONED
Atlassian Summit 2020: Las Vegas, USA (31-2) NOW ONLINE ONLY
Black Hat Asia 2020: Singapore (31-3) POSTPONED
Enterprise Connect: Orlando, USA (3-6) POSTPONED
April
Ellucian Live 2020: Orlando, USA (5-8) NOW ONLINE-ONLY
Google Cloud Next: San Francisco, USA (6-8)  NOW ONLINE-ONLY
Kaspersky's Security Analyst Summit: Barcelona, Spain (6-9) POSTPONED
IDC Directions: Toronto, Canada POSTPONED
Google News Initiative Summit: Sunnyvale, USA CANCELLED 
Red Hat Summit 2020:  San Francisco, USA (28-29) NOW ONLINE-ONLY
May
Dell Technologies World 2020: Las Vegas, USA (4-7) NOW ONLINE-ONLY
IBM Think 2020: San Francisco, USA (5-7) CANCELLED
LFMX Visual Effects Conference: Germany (5-8) CANCELLED 
Facebook F8: San Jose, USA (6-8) CANCELLED
Shopify Unite 2020: Toronto, Canada (6-8) NOW ONLINE-ONLY
Google I/O: Mountain View, USA (12-14) CANCELLED
Ingram Micro Cloud Summit 2020: Miami Beach, USA (12-14) POSTPONED
June
True North Festival: Waterloo, CANADA (1-7) CANCELLED
TNW Conference: Amsterdam, Netherlands (18-19) POSTPONED
Collision 2020: Toronto, Canada (22-23) NOW ONLINE-ONLY
Semicon China: Shanghai, China (26-29) POSTPONED
July-November
International Sourcing Expo: Melbourne, Australia (November 24-26)
The Impact of Cancellations on the Event Industry
PredictHQ found that there has already been a 500% increase in major event cancellations or postponements in the month of February compared to a typical year, the March cancellation rate increase is already at 875% and both figures are expected to rise. Notable postponements including Music Festivals such as Coachella and Miami's Ultra Music Festival. The Air Transport Association estimated airline travel losses from coronavirus outbreak to be upwards of $113 billion. Many other notable cultural and sporting events all over the world have been cancelled: Okinawa's Azalea Festival, Tokyo's Cherry Blossom Festival, the last two days of Venice Carnival, Giorgio Armani's fashion show in Milan alongside other shows both in Milan and Paris, Shangai's fashion week was moved to online, Art Basel, Formula One's Chinese Grand Prix, the World Athletics Indoor Championships, the 2020 Fifa World Cup qualifiers, the ladies and men's professional golf associations cancelled various tournaments across Asia.
When one looks specifically at business conferences, yearly estimates of business conference direct spending are more than a trillion dollars (as estimated by Oxford Economics), which means that there is still a long way to go before current losses make a significant impact on these numbers. Nevertheless, some of the biggest losses include the cancellation of the Mobile World Congress, which is approximated at $480 million and South by Southwest, estimated at a $350 million direct spending loss. Other notable cancellations, such as Google I/O and the Game Developers Conference are expected to incur direct losses of $20 million and $120 million respectively (all numbers estimated by PredictHQ). 
While some events such as the Facebook F8 and Adobe Summit have a significant online component, companies which depend on specific conferences as part of their annual marketing and sales playbook are likely having to reconsider their 2020 strategy to make up for these losses.
Digital Alternatives to B2B Conferences and Trade Fairs 
At the inception of B2B marketing and sales, in-person sales were the standard, regardless of whether you were a snake oil salesman or a mining equipment manufacturer during the gold rush. However, with the business and global landscape continuingly mutating, digital sales and marketing have taken the spotlight. From field sales, conventions, print ads and phone, new channels such as email, SEM, content and social media marketing have become other primary outlets for B2B marketing and sales. 
Despite this shift to digital, conferences and trade fairs are still key for a variety of industries, especially those dealing with physical goods and manufacturing. With the coronavirus outbreak as well as the significant environmental impacts of conferences in consideration, it's important to consider what alternatives are possible beyond traditional inbound and outbound marketing channels. These environmental and health factors are accelerating the digital transformation of conferences into live events. As an example, the F8 Developer Conference, a mostly-annual conference held by Facebook, intended for developers and entrepreneurs who build products and services around the website, has been replaced by locally hosted events, videos and live-streamed content amid coronavirus fears. 
A more recent approach to outbound marketing and sales which is becoming increasingly prominent is social selling. Social selling is the use of social networks to engage directly with prospects to nurture business relationships and generate sales opportunities. It combines the digital possibilities of today's marketing and sales landscape with the personal aspects of conferences and trade shows and is widely seen as the modern way to develop meaningful relationships with potential customers. 
Furthermore, with 73% of millennials are involved in B2B purchase decisions and one third saying they are the sole decision-maker, social selling is a great way to bypass the reluctance of Millenials and Gen Z to answer the phone as well as the GDPR challenges email is facing. 
There are a variety of factors which influence which social network you should focus on as a B2B marketer or salesperson, however In high ticket enterprise B2B sales LinkedIn is by far the most effective. LinkedIn's high data quality and strong lock-in effects are among the factors that have led to its position as the primary network for professionals. Through LinkedIn, one can generate cost-effective high quality leads fitting your ideal customer profile through its wide audience. In addition, one can share relevant content with prospects to nurture valuable relationships and manage incoming leads through direct transfer to your CRM database. 
Corona Virus No Travel Map (Last update: 11/03/20)
In the tracker we displayed above, one can find the major conferences and trade fairs that have been cancelled, postponed or switched to online only. However, if you are participating in smaller or more niche events which there has not yet been news about, the following map shows which countries have been defined as travel risks (updated daily):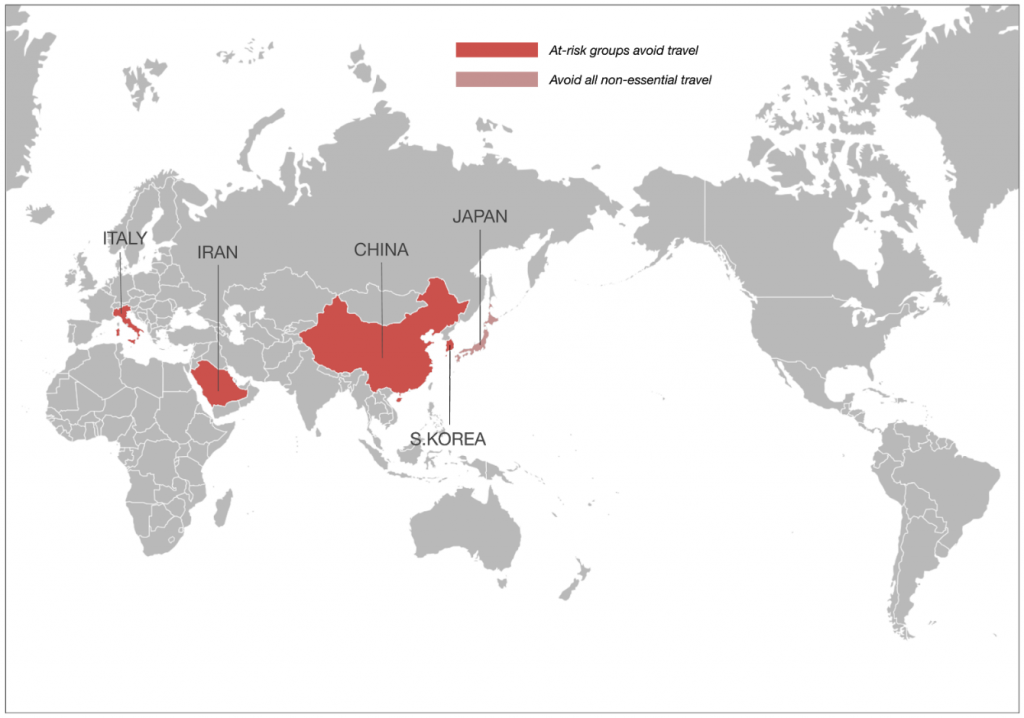 As the coronavirus continues to spread, more conferences and events are expected to be cancelled, direct economic losses are expected to continue to rise, and the final extent of these effects remains to be seen. Watch this space to see live updates on these figures over the coming period. 
Categories
Receive our monthly Data Digest
For decision makers and data practitioners, our monthly roundup of the industry
Share This Article